September 19th, 2017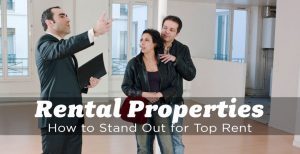 As demand for condos has been cooling off for the past couple of years and vacancy rates for rental properties rising, property managers need to go the extra mile to fill empty units.
Rental spaces don't just sell themselves, you have to make sure that when prospective tenants come knocking that you've done everything in your power to make the unit you're showing as enticing as possible. Luckily, we happen to have a few tips to help you do just that.
Get Rid of That Vinyl Flooring
Vinyl flooring is inexpensive and easy to replace, but that's really where the benefits end for this dated floor covering. Remember, potential tenants aren't merely looking for a place to hang their hats – they're looking for a place to entertain their friends, and a place they're proud to call home. Savvy tenants abhor this easily damaged material so much that it's often enough to turn them right off of the property, particularly if it's present throughout the home, from the bathrooms and laundry room to the kitchen.
Though admittedly more costly than a roll of vinyl, ceramic or porcelain tiles are much more stylish than vinyl and they're much more durable to boot. A chic, well thought out tile choice can really make the difference between a tenant liking your space or loving it.
Remember the Little Things
Walk through the space. Do any of the stairs creak? Do any of the doors stick? Are all the outlets working? Are there any leaks? These all might seem like no brainers to most, but the fact is, a lot of these little apartment nuances, particularly if they're minor, end up going unreported by the previous tenant. Before you begin showing the space, take time to walk the property and make sure that all the little details are covered.
Consider going the extra mile by installing a security system. Doing so will show prospective tenants that you care about their security and well-being, and you should be able to leverage this security feature to secure a higher rental amount.
Give Some Love to The Kitchen
For many people, the kitchen is the nucleus around which the family gathers. For that reason, it's critically important that you consider giving at least a modest facelift to this space, especially if a long time tenant just vacated the property. If you don't have the budget to modernize the appliances, consider a new countertop and complimentary glass-tiled backsplash, both of which are reasonably priced ways that can be used in your kitchen remodeling project. A fresh coat of paint, and some new stylish cabinet knobs can also help to make this important space more appealing. Oh, and you can never go wrong with a modern sink and faucet.
Make the Space More Comfortable by Installing New Windows
Making the change to triple paned windows can not only help to maintain a comfortable temperature within the rental unit by limiting heat loss through conduction, it also greatly improves noise reduction. Noise can be a serious concern for units located in busy areas of the city so addressing noise reduction can be a significant differentiator, adding further value to your property. Energy efficient windows will help to keep utility costs under control regardless as to who is footing the bill – so this is one upgrade that truly is a win-win. If your rental agreement stipulates that you're covering the costs to heat and cool the home, the windows will pay for themselves and then some, in the long term.
Curb Appeal – More Important Than You'd Imagine
Since potential renters can view the rental space online it's important that the outside of the rental property is appealing. A well-manicured lawn, some potted plants, and a well-maintained exterior will lead people viewing the space online, as well as passersby that your property is one that they need to check out.
Though it may be difficult to justify expenses like a new sink and faucet, ceramic tiling in the kitchen and bathroom, and other upgrades, it's important to think about it as adding value to an existing space that you'll be able to monetize. The more value you add, the better rental rate your unit will command.