August 15th, 2017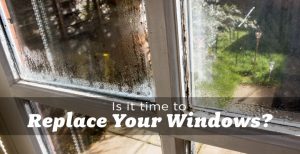 If you have older windows or if they are damaged, you could be losing a lot of energy and should consider a window replacement. Some tell-tale signs that your windows need replacing include:
fog or condensation build up
rot or mould on wooden window frames
obvious warping or damage to the frame
drafts
cracked or peeling caulking
Your windows are the biggest culprit for energy loss in your home. If your windows are suffering any of the symptoms listed above, you could be losing more energy than you think and paying way too much on your utility bills each month.
Save energy and money with ENERGY STAR certified windows.
If you're in the market for new energy efficient windows, you should choose windows that are ENERGY STAR certified. These highly-efficient windows can save you an average of 8 per cent on your energy bills.  Windows that qualify for the ENERGY STAR Most Efficient designation are up to 40 per cent more efficient than a standard window. Your regular energy savings can add up month-to-month and could eventually cover the cost of your window replacement.

Window replacements will boost your home's resale value.
Not only do your windows enhance your curb appeal, they are one of the first things a home buyer will investigate when considering your home for sale. Replacing old or damaged windows on a typical 3-bedroom home can cost between $6000 to $10,000. That is an expensive job a buyer would rather not have to worry about when purchasing and moving into a new home. Having that job done for them, combined with the draw of energy savings that come with newer windows, is a huge selling feature.
Not only will a window replacement make your home more marketable, it will also increase the overall value of your home. According to Remodeling Magazine's Cost vs. Value Report for 2017, a window replacement using energy efficient vinyl windows will recoup 73.9% of your initial cost. According to the report's numbers, if you spend about $9,000 to replace 6 windows, you can expect your home's value to go up by $6,770. Though you won't recoup 100% of the cost of a window replacement, the increased value combined with improved curb appeal and marketability will definitely help you when it comes time to sell your property. In the meantime, you'll benefit from the energy savings.
What kind of windows should I buy?
Most Edmonton window companies manufacture and install energy efficient windows that are approved by ENERGY STAR. You should look for a window that holds a high R-value. The R-value will show you how well a window prevents energy from transferring through it. The higher the R-value, the better thermal performance you'll get from your windows.
You should also purchase windows that have low emissivity or Low-E. This is the method that window manufacturers use to reflect the heat to the warm side of the glass. That means that in the winter the heat will stay inside your home and in the summer it will stay out!
Whether you choose to replace your windows yourself or hire an Edmonton window company to do the job, a window replacement will improve your home's efficiency, help you save money on energy bills, boost your curb appeal and enhance your home's resale value.